If you are like millions of iPhone fans who just couldn't breathe properly when iOS7 came out and you just had to upgrade, you just had to! I mean is there any other reason for living? Hell no!
The whole iOS7 phenomenon, which I even discussed previously in my – iOS7 Vs. Android post, is all over the place now, and well some of the things are to be appreciated like the really enhanced OS, undoubtedly fast and fluid, the makeover given to the Notification Center, the new Control Center, iTunes Radio and so on, there are other flaws that you just can't ignore. One being a pretty annoying one indeed, the iMessage bug!
Many users suffered the iMessage bug globally which was also acknowledged by Apple
We are aware of an issue that affects a fraction of a percent of our iMessage users, and we will have a fix available in an upcoming software update. In the meantime, we encourage any users having problems to reference our troubleshooting documents or contact AppleCare to help resolve their issue. We apologize for any inconvenience this causes impacted users.
I seriously doubt it's a fraction of a percent, but anyhow, if  you too fall in such a category, until Apple fixes it in the subsequent updates, here's a quick fix to the iMessage bug: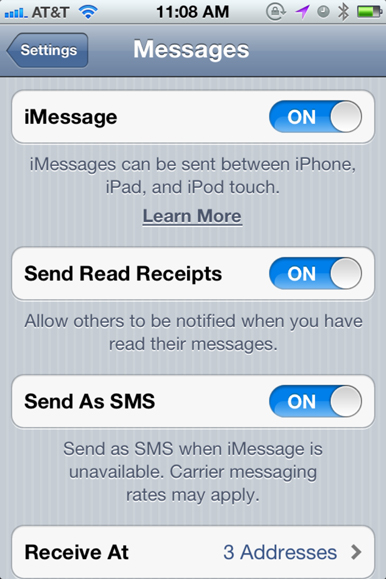 Turn off iMessage from Settings
Reset Network Settings
Turn on iMessage from Settings
Pretty neat huh? If you are still facing the issue, hang on tight, the Apple guys are on it, but these simple steps would for sure solve the problem of a fraction of the percent (wink wink)!
The following two tabs change content below.
Erum Shakil is an experienced marketing business grad and a technology enthusiast. She has been running her very own YouTube channel to satisfy her pangs for geeky desires and helping others in the process. Offline, she is an experiential marketing strategist, specializing in 360 marketing communication designs for multiple brands in various industries.
Latest posts by Erum Shakil (see all)