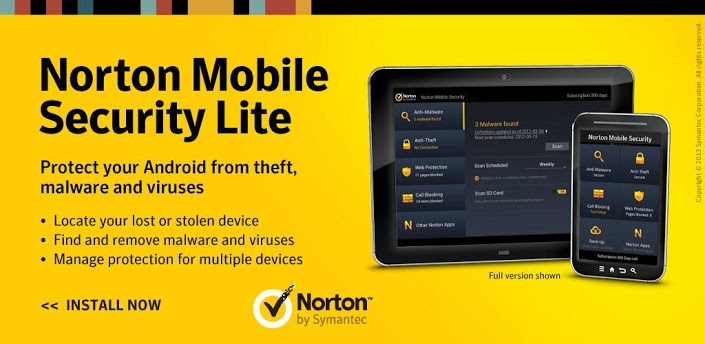 Norton Security Lite is a free antivirus app for android market coming from one of the most successful antivirus companies, Symantec. The Norton Security app's complete paid version is also available which the user can opt for after having a test-trial of the free Norton Security Lite app.
The free version includes updated virus scans, automatic malware scanner,  remote lock and wipe capabilities, call blocking and message screening as well as, with added plug-ins, the user can make use of Norton's cloud storage services with secure downloads.
Norton claims the Norton Security Lite is fast and easy to use, the setup is simple and user-defined. The Norton Security Lite has auto-update feature to give the most up-to-date protection. Norton also boasts the app is highly resource friendly, doesn't slow down the web experience and will not drain the battery life.
Norton Security Lite works with Android 2.2 or later.

The following two tabs change content below.
Erum Shakil is an experienced marketing business grad and a technology enthusiast. She has been running her very own YouTube channel to satisfy her pangs for geeky desires and helping others in the process. Offline, she is an experiential marketing strategist, specializing in 360 marketing communication designs for multiple brands in various industries.
Latest posts by Erum Shakil (see all)