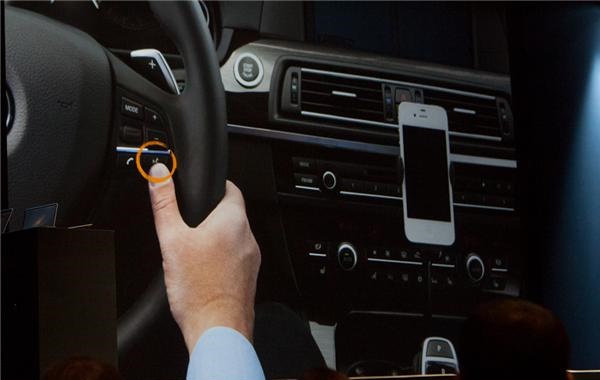 The German automobile giant BMW in a recent series of events announced the arrival of Siri "Eyes Free" mode to be a key feature in all of its 2014 models.
iPhone users can interact with the latest BMWs using Siri and BMW's ConnectedDrive Internet service. This latest update  is not restricted to iPhone owners who happen to flash BMWs as well but is also going to be available for Samsung smartphone owners as the BMW iDrive will support both Apple Siri and Samsung S Voice.
The feature can be accessed through vehicle's voice command control by pressing and holding the steering wheel voice command button. The update allows a one-time press option, where the driver need not keep holding the button, as the voice command will continue to run once activated.
Apple has showcased at last year WWDC that it is working with BMW, Mercedes, GM, Land Rover, Jaguar, Audi, Toyota, Chrysler and Honda on an integrated, intelligent drive initiative.
Eyes Free cars seems to be the new revolution in the automobile industry, with Chevrolet, Honda and Acura all joining hands in the charade. Honda and Acura has already introduced this feature in this year's models, whereas Chevy's announcement is for the next year's line up.
The following two tabs change content below.
Erum Shakil is an experienced marketing business grad and a technology enthusiast. She has been running her very own YouTube channel to satisfy her pangs for geeky desires and helping others in the process. Offline, she is an experiential marketing strategist, specializing in 360 marketing communication designs for multiple brands in various industries.
Latest posts by Erum Shakil (see all)