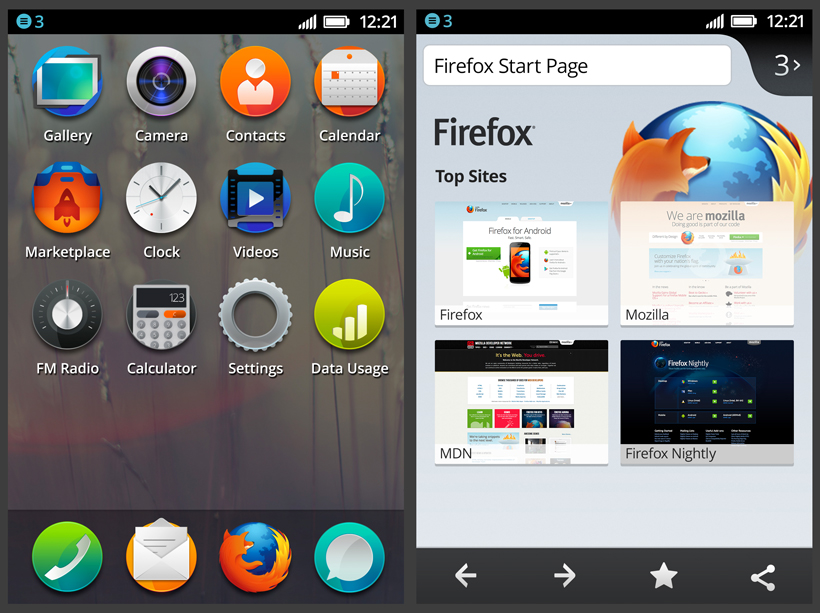 Mozilla Foundation – a non-profit organization is all about helping people through technology. The smartphone market is dominated by iOS and Android smartphones, the later coming in a wide-range of prices and specs.
PROBLEM? Not everything really works well on every device, and even if you want to have the full smartphone experience you must spend some good bucks!
MORE PROBLEMS? You need to upgrade to latest versions to enhance your experience, memory issues are inevitable and you can only download apps from the native Google Play or iTunes App Store (not if you know how to root or jailbreak, of course)
SOLUTION? Firefox OS, a 100% open source HTML based smartphone OS. Everything is developed using HTML5, everything, literally, Home Screen, Dialer, SMS, Contacts, you name it. So basically you are looking at a browser engine over a default kernel and everything you see on your screen is run on the browser.
All of this means
Low resource requirement and consumption
Way-better battery life than iPhone and Android smartphones
Not-so-expensive smartphones
A wider platform for developers
So currently Firefox OS is in the making, few devices are rolling out and simulators are all available to experiment but the market place is yet to flourish and the chances are pretty neat, depending on the openness of the platform.
For now, the big players such as Samsung, HTC, LG are not really jumping into Firefox OS, Samsung is likely to bring in their very own Tizen OS for it's upcoming smartphones; Geeksphone, a Spanish manufacturer has released Keon and Peak, it's first Firefox OS smartphones, at an extremely affordable prices.
The following two tabs change content below.
Erum Shakil is an experienced marketing business grad and a technology enthusiast. She has been running her very own YouTube channel to satisfy her pangs for geeky desires and helping others in the process. Offline, she is an experiential marketing strategist, specializing in 360 marketing communication designs for multiple brands in various industries.
Latest posts by Erum Shakil (see all)