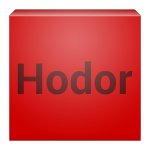 Game of Throne fans welcome Hodor Keyboard
Game of Throne fans with the mind-blowing earth-shaking unbelievably awesome finale of GOT comes a new treat this week, the "HODOR KEYBOARD."
Yup, I said Hrdor Keyboard. Head over to Play Store to get your dose of Hordor with this new app, the reviews look promising but too early to predict if I'd keep it on my phone for long or not.
It's basically a pretty decent and snappy keyboard with a pretty fun name, well I was sold on the name to begin with
I wonder if G.R.Martin has some stake in it .. hmmm…. anyway, click on the red icon to go to Play Store Hodor Keyboard.
The following two tabs change content below.
Erum Shakil is an experienced marketing business grad and a technology enthusiast. She has been running her very own YouTube channel to satisfy her pangs for geeky desires and helping others in the process. Offline, she is an experiential marketing strategist, specializing in 360 marketing communication designs for multiple brands in various industries.
Latest posts by Erum Shakil (see all)