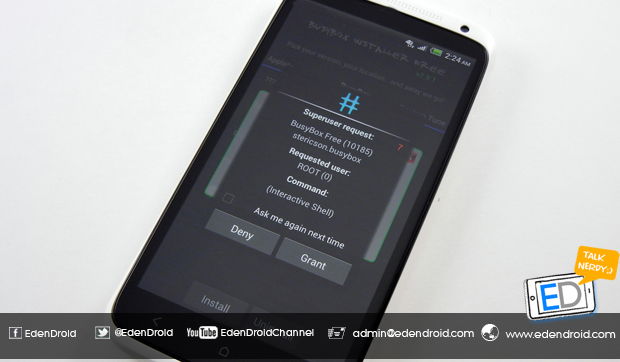 HTC One X has been one of the main stream smartphones of 2012/13 competing with flagships like S3 and iPhone 5.
Since you've come to this section of How Tos on how to root HTC One X, we are sure you hold the charmer in your hand right now, so let's get started!
I've done quite a research myself and come across the One Click Root method as the safest one so far, you don't want to brick your HTC One X am sure, so simply follow these easy steps and let us know how did it go?
Please do note that rooting with void your warranty (if any) and am presuming you know all the risks involved, rest assured this method has yield no bricks till date
Note: www.edendroid.com and the author holds no responsibility in case you void your warranty or brick you phone in the process
Download One Click Root
Connect HTC One X using micro usb cable to your computer / make sure all drivers needed are installed
Wait for the system to detect and install the device, shouldn't really take long
Go to settings > developers settings> enable USB debugging(on your device), the placement of USB debugging may vary based on the android version/rom you are using
Run One Click Root software and click Root Now!
Enjoy the rooted HTC One X
The following two tabs change content below.
Erum Shakil is an experienced marketing business grad and a technology enthusiast. She has been running her very own YouTube channel to satisfy her pangs for geeky desires and helping others in the process. Offline, she is an experiential marketing strategist, specializing in 360 marketing communication designs for multiple brands in various industries.
Latest posts by Erum Shakil (see all)