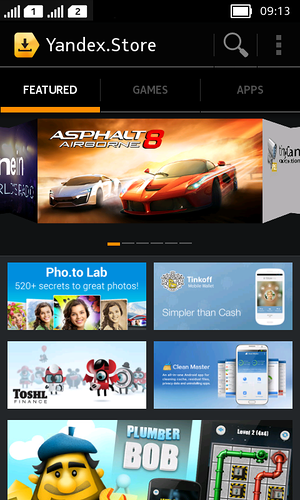 Nokia X allows you to enjoy the Windows Phone environment and use your favourite Android apps at the same time! There are 3 methods that you can follow to get the best android apps on your Nokia X (you can view all of them here)
This post covers "How to Install Android Apps on Nokia X USING THIRD PARTY APP STORES"
This method is suitable for you if the apps you want aren't already available on the native Nokia Store on your Nokia X.
1.  Click on "Store" on  your Nokia X and open the store
2. Find one of the four third party app stores on Nokia Store: 1Mobile Market, SlideMe, Aptoide or Yandex Store (I prefer Yandex)
3. Once installed open the third party app store, follow the instructions, register and allow the phone to install the app
4. Find the android app you want to download on this third party app and install away.
This method is tends to be very handy for the majority of smartphone users, but in case you have the geek germs like I do, try the third (and my favourite) method, get the link here.
Got more questions use the hashtag #AskEdenDroid on twitter and facebook or connect with me on FB, Twitter, Instagram or below!
The following two tabs change content below.
Erum Shakil is an experienced marketing business grad and a technology enthusiast. She has been running her very own YouTube channel to satisfy her pangs for geeky desires and helping others in the process. Offline, she is an experiential marketing strategist, specializing in 360 marketing communication designs for multiple brands in various industries.
Latest posts by Erum Shakil (see all)