iOS 7 Vs Android – Top 5 Things
 (iOS 7 on the right, Android JB 4.2 on the left) 
1. Quick Toggles (Command Center)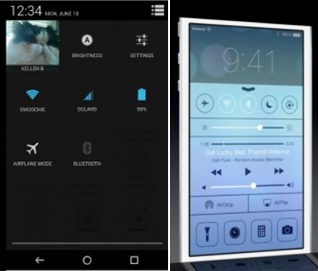 iOS7: Gesture based Command Center that can be accessed anywhere on an iOS device. The Command Center can be accessed through a quick swipe up from the bottom with toggles for Airplane mode, WiFi, Bluetooth, brightness settings, music controls, camera shortcut, and even a flashlight.
 Android 4.2 JB: Pre-historic feature of quick toggles in Android since Android 2.3 Gingerbread, in Android 4.2 JB, the two-finger swipe down notification bar is already present. Music controls have been in the notification bar for some time, so that's not necessarily new.
2. Lock Screen Notifications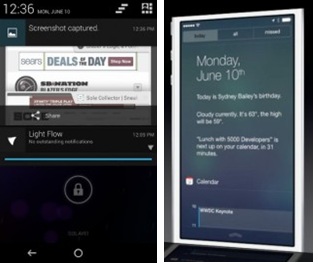 iOS7: Now you can access notifications center right from the lock screen
Android 4.2 JB: Been there done that, since at least the last two versions of android, it's definitely been an integral feature
3. Safari vs. Chrome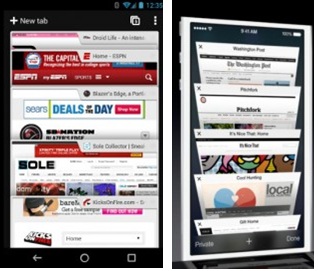 iOS 7: Apple's native browser Safari to now feature a 3D looking interface when switching between tabs
Android JB 4.2: Chrome giving that experience for quit some while now, an year or so to be more precise.
4. Multi-tasking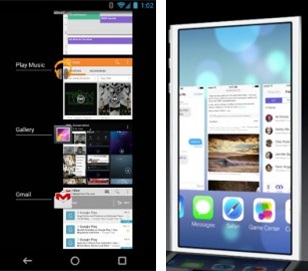 iOS 7: a Multi-tasking – apps to run at the background by learning the user's needs over time (hopefully quickly ad accurately). The user then an access apps intuitively.
Android JB 4.2: Not exactly user-based learning potential so far, but multitasking has been an old feature in Android devices, actually this apparently set android apart from the iOS for a long time.
5. Lock Screens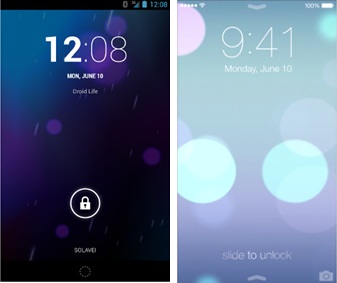 iOS 7: Access the camera app (and probably an added feature to quickly access other apps) right off the Lock screen, and also the classic "slide to unlock" has been revamped to a more android-ish look
Android JB 4.2: Mastered it before Apple did, should really get the credit for it
For detailed Head-to-Head dicussion jump over here
The following two tabs change content below.
Erum Shakil is an experienced marketing business grad and a technology enthusiast. She has been running her very own YouTube channel to satisfy her pangs for geeky desires and helping others in the process. Offline, she is an experiential marketing strategist, specializing in 360 marketing communication designs for multiple brands in various industries.
Latest posts by Erum Shakil (see all)