Just when I was looking an affordable, Qwerty, fast and responsive, on the go phone with Whatsapp (a really long wish-list, I know!), out came the Nokia Asha 210 announcement directly from Finland.
Nokia has announced the launch of the world's first phone with a dedicated "WhatsApp" button, which will be a part the Asha family. The phone will come in a Single and/or Easy Swap Dual Sim variants with Wi-Fi.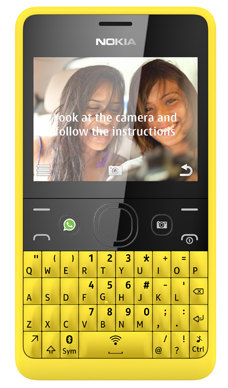 With Asha 210, consumers can join in the celebrations of Nokia and WhatsApp partnership, gaining free WhatsApp service on the dedicated WhatsApp button for their lifespan (crazy)!
Other social networks would also be part of the software package including Facebook, Twitter, Youtub
e and Gmail services; lifting the promise of Nokia Asha family, or togetherness and affordability.  All of this with an amazing long-lasting battery up to 46 days on Single-Sim and 24 days on Dual-Sim
In addition to this, the Nokia Asha 210, will be packed with 2MP smart camera, dedicated hardkey for image capturing an sharing anytime, everywhere. The software incudes, "Self-Portrait and Fast editing modes", along with sharing capabilities through Nokia Slam!
It's soon to hit the markets globally and might be a leap for Nokia to gain a stronghold in the budget smartphones category.
Note: Services charges might be packed with data-package and service carriers in different regions
The following two tabs change content below.
Erum Shakil is an experienced marketing business grad and a technology enthusiast. She has been running her very own YouTube channel to satisfy her pangs for geeky desires and helping others in the process. Offline, she is an experiential marketing strategist, specializing in 360 marketing communication designs for multiple brands in various industries.
Latest posts by Erum Shakil (see all)